Pori Jazz 2017 tickets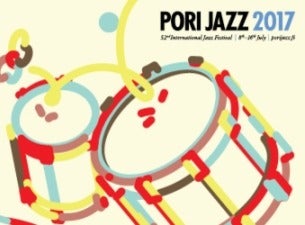 Pori Jazz 2017 takes place from July 8th - 16th. The Festival program offers a large number of musical artists at Kirjurinluoto Concert Park, on Jazz Street along the banks of the river Kokemäenjoki as well as Cafe Jazz. The main stars of this 52nd Pori Jazz Festival include Jamiroquai, Grace Jones, Brian Wilson presents Pet Sounds, Chaka Khan Erykah Badu, and Herbie Hancock!
The Main Concerts at Kirjurinluoto Concert Park are on Thursday 13th, Friday 14th and Saturday 15th of July. Music will be playing on three stages from afternoon until late. Ticket grants admission to all of the three stages within the Concert Park. The concerts are for all ages and children under 12 years of age will not be charged the admission fee.
Kirjurinluodon palveluja on kehitetty edelleen täksi kesäksi. Monipuolista ja herkullista syötävää sekä juotavaa on tarjolla niin anniskelualueilla kuin niiden ulkopuolellakin, mutta aivan erityisesti ruokamyyntiä on keskitetty jokilavan edustalle. Kirjurinluodon yleisöä palvelee myös à la carte -ravintola, joka antaa mahdollisuuden rauhalliseen ruokailuhetkeen festivaalipäivän aikana.
We have further developed the services and amenities for this summer's Festival. A variety of food and beverages will be available both within and outside of bar areas. Food vendors can be found especially in the vicinity of Jokilava Stage. An À La Carte restaurant will be serving a range of delicious dishes for you to enjoy with no rush during our stay at the Festival.
Day tickets to Kirjurinluoto are from €75.50, shipping costs included (the price is €80 if purchased at the gate). If you would like a slightly more exclusive festival experience, you may avail of our VIP and Radio Aalto Lounge tickets.
For more information about the program and the Festival, please visit:
www.porijazz.fi
Sorry, no results found for 'Pori Jazz 2017'
Browse by Category