Qstock Festivaali 2017 biljetter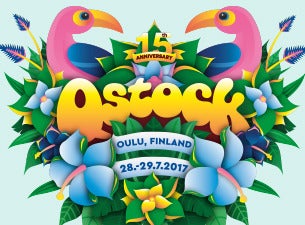 QSTOCK FESTIVAL HAS ALREADY ANNOUNCED 40 ACTS - TICKETS ON SALE
Ticket sales information >>
qstock.fi/en/tickets
Programme >>
qstock.fi/en/programme/
Exclusive and 2-Day Upgrade >>
qstock.fi/en/exclusive-tickets/
Purchasing limit: 10 tickets/customer. Gates: FRI 28.7. at 2pm, SAT 29.7. at 11am N.B! Qstock tickets must not be used as prizes in lotteries or competitions without a written permission from Qstock Oy.
ARTISTS ANNOUNCED SO FAR:
Friday 28 July 2017:
Marilyn Manson (USA), Haloo Helsinki!, Danko Jones (CAN), Bry (IRE), Mokoma Acoustic, Disco Ensemble, JP Cooper (UK), Kuningasidea, S-Tool, Pete Parkkonen, Santa Cruz, Teflon Brothers, Chisu, Michael Monroe, Egotrippi, Radiopuhelimet, Turmion Kätilöt, Apulanta.
Saturday 29 July 2017:
Profeetat, Alice Cooper (USA), Mikael Gabriel, Pariisin Kevät, Imperial State Electric (SWE), Amaranthe (SWE), Miriam Bryant (SWE), Poets of the Fall, The Charm The Fury (NL), Antti Tuisku, Kaija Koo, JVG, Roope Salminen & Koirat, SANNI, Ellinoora, Stam1na, Pauli Hanhiniemen Retkue, Atomirotta, Jenni Vartiainen, Battle Beast, Reino Nordin, Ida Paul & Kalle Lindroth.
We will add new Finnish and foreign artists to our program as the spring progresses. - 6 stages, more than 60 acts!
AGE LIMITS AND FREE WRISTBANDS:
There is no age limit for attending the Qstock festival 28–29 July 2017. Under 10-year-olds (born on 30 July 2007 or later) can access the festival for free. Under 10-year-olds are guaranteed a free wristband in the company of an adult who has purchased a ticket. A maximum of two children under 10 are allowed to enter the festival area in the company of an adult who has a ticket. Free wristbands can be collected from the accreditation desk in the ground floor lobby of the Raatti Swimming Bath (Raatintie 2). Age must be verified.
Over 60 years old customers:
Qstock, Hukka Health Club and Kaleva newspaper once again combine forces to offer people of over 60 years of age the possibility to attend the festival with the special Enemmän Elämää! ticket. The Enemmän Elämää! package costs 30 euros, including: Two-day Qstock 2017 ticket, Day-time membership to Hukka Health Club for 12 consecutive days and eKaleva subscription for a month. Limited amount Enemmän Elämää! tickets can be purchased locally from the Hukka Health Club in Oulu, Isokatu 99. The proceeds will be donated to leisure activities for low-income children and youth in Oulu. The fundraising is organised by Oulu Deaconess Institute, which will target the proceeds to proper objectives.
Free assistant wristbands for people with mobility impairments:
If your disability requires you to have an assistant present, he or she can collect a free wristband at the accreditation desk in your company. The accreditation desk is located in the ground floor lobby of the Raatti Swimming Bath (Raatintie 2) in the immediate vicinity of the festival area and open during the festival on 28-29 July 2017. Only one assistant per aided person is entitled to a free wristband. The assisted person must have a Qstock ticket or wristband.
5 evenemang för Qstock Festivaali 2017
5 Evenemang