Qstock Festivaali 2017 biljetter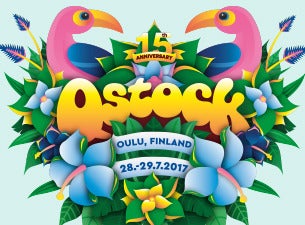 24 NEW ARTISTS REVEALED - TICKET SALES BEGIN TODAY!
More information on tickets -->
qstock.fi/tickets
Artist schedule -->
qstock.fi/programme
Purchasing limit: 10 tickets/customer.
Gates: FRI 28.7. at 2pm, SAT 29.7. at 11am
Qstock complements its schedule with both foreign and domestic top artists. The new foreign guests for the anniversary summer's festival include Alice Cooper, the pioneer of theatrical rock concerts, as well as JP Cooper, the British singer who made his breakthrough with September Song. Amaranthe is a Swedish/Danish metal group that already has a history of making the Qstock crowd roar. The Charm The Fury brings a fresh breeze from the Dutch metal scene, and Hellacopters frontman and songwriter Nicke Andersson makes an appearance with his band Imperial State Electric from Sweden.
The newly confirmed Finnish acts include Haloo Helsinki!, Chisu, Antti Tuisku, Kaija Koo, JVG, Michael Monroe, Roope Salminen & Koirat, SANNI, Ellinoora, Egotrippi, Stam1na, Radiopuhelimet, Turmion Kätilöt, Pauli Hanhiniemen Retkue, Apulanta, Atomirotta, Jenni Vartiainen, Battle Beast and Teflon Brothers. Previously published headliners are Marilyn Manson (USA), Profeetat and Danko Jones (CAN).
We will add new Finnish and foreign artists to our program as the spring progresses. - 6 stages, more than 60 acts!
3 evenemang för Qstock Festivaali 2017
3 Evenemang
Evenemang i

Finland

(3)
Qstock, saturday

lör

11:00