Qstock Festivaali 2017 tickets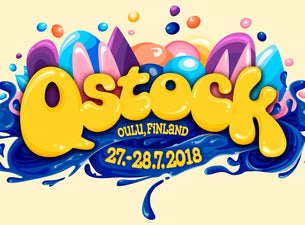 QSTOCK HAS ANNOUNCED 43 ACTS ALREADY – LATEST CONFIRMATION IS LILY ALLEN (UK)!
Qstock Festival in Oulu, Finland, confirms 12 new acts to its programme. The latest international booking is English singer/songwriter
Lily Allen.
Known for her bold style of mixing different genres, Lily Allen got a flying start to her career with the single Smile and the follow-up debut album Alright, Still in 2006. Since then, Allen's three albums have been sold by the millions around the world. Her fourth album, No Shame, is due for release in the early summer, and the latest single Trigger Bang (feat. Giggs) was welcomed warmly.
The other newly confirmed international acts include melodic metal supergroup
Cyhra
from Sweden and modern prog metal group
Defecto
from Denmark.
Top Finnish names who have recently confirmed their appearance include
Neon 2, Don Johnson Big Band, Roope Salminen & Koirat, Scandinavian Music Group, Reino Nordin, Litku Klemetti, Timo Rautiainen & Niskalaukaus, Stig Dogg, and Disco Ensemble.
Previously announced acts for this year's Qstock include
Hurts (UK), Cheek, Bad Religion (US), The Rasmus, Hardcore Superstar (SE), Dagny (NO) and Redrama
. All the acts confirmed so far can be found on the festival's website. The next new bookings will be announced in March.
ACTS CONFIRMED SO FAR:
Friday 27 July 2018: Lily Allen (UK), Hurts (UK), Hardcore Superstar (SE), Jenni Vartiainen, Atomirotta, Neon 2, Roope Salminen & Koirat, Reino Nordin, Scandinavian Music Group, Radiopuhelimet, Vesta, Stam1na, Maj Karma, JVG, K-X-P, Gasellit, Beast In Black, Ruudolf, S-Tool, CMX.
Saturday 28 July 2018: Cheek, Bad Religion (US), Dagny (NO), Cyhra (SE), Defecto (DK), Don Johnson Big Band, Disco Ensemble, Stig Dogg, Litku Klemetti, Raappana, Satellite Stories, Redrama, Olavi Uusivirta, Amorphis, Von Hertzen Brothers, Elastinen, Pyhimys, Ellinoora, The Comedians, Kaija Koo, The Rasmus, Michael Monroe, Timo Rautiainen & Trio Niskalaukaus. Artist presentations and dates:
qstock.fi/en/programme/
Mor info abour sales:
qstock.fi/en/tickets
More info about Exclusive tickets:
qstock.fi/en/exclusive-tickets
Accommodation packages:
qstock.fi/accomodation
Purchase limit: 10 tickets / customer
N.B. Qstock tickets must not be used as prizes in lotteries or competitions without written permission from Qstock Oy.
GATES: FRI 27 JUL at 14:00, SAT 28 JUL at 11:00
New foreign and Finnish artists will be added to the programme during the spring. More than 60 acts will perform at the festival on six stages.
Qstock takes place in Kuusisaari and Raatti area in Oulu on 27 and 28 July, 2018. Qstock has been sold out for five summers in a row and the event is established as one of the biggest festivals in Finland. Last year the festival gathered 32,000 people over two days.
AGE LIMITS AND FREE WRISTBANDS:
There is no age limit for attending the Qstock festival. Under 10-year-olds (born on 29 July 2008 or later) can access the festival for free. Under 10-year-olds are guaranteed a free wristband in the company of an adult who has purchased a ticket. A maximum of two children under 10 are allowed to enter the festival area in the company of an adult who has a ticket. Free wristbands can be collected from the accreditation desk at the Raatti Swimming Bath (Raatintie 2). Age must be verified.
Assistant wristbands for people with mobility impairments:
If your disability requires you to have an assistant present, he or she can collect a free wristband at the accreditation desk in your company. The accreditation desk is located in the ground floor lobby of the Raatti Swimming Bath (Raatintie 2) in the immediate vicinity of the festival area and open during the festival on 27–28 July 2018. Only one assistant per aided person is entitled to a free wristband. The assisted person must have a Qstock ticket or wristband.
Enemmän elämää! package for over-60-year-old customers, starting 1 March 2018:
Qstock, Hukka Health Club and Kaleva newspaper once again combine forces to offer people of over 60 years of age the possibility to attend the festival with the special Enemmän Elämää! ticket. These tickets can be purchased locally from the Hukka Health Club in Oulu, Isokatu 99. The proceeds will be donated to leisure activities for disadvantaged children and youth in Oulu. The fundraising is organised by Oulu Deaconess Institute, which will target the proceeds to proper objectives. More information about the content of the package will be available prior to the commencement of sales at
www.qstock.fi/tickets
4 Events for Qstock Festivaali 2017
4 Events