Qstock Festivaali 2018 tickets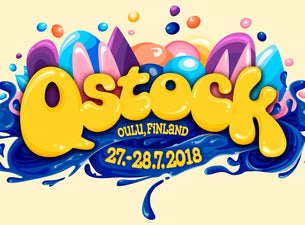 QSTOCK PROGRAMME IS COMPLETE!
The programme for Qstock is complete. The festival features more than 60 acts over two days. This year Qstock features more acts than ever before. New slots have been opened for the Friday afternoon, and that is why the gates open already at 1 p.m. on Friday. Also the Saturday schedule starts half an hour earlier than before.
EXACT SCHEDULES:
qstock.fi/en/timetable/
MORE INFO ABOUT TICKET SALES:
qstock.fi/en/tickets
Purchase limit: 10 tickets / customer
N.B. Qstock tickets must not be used as prizes in lotteries or competitions without written permission from Qstock Oy.
GATES: FRI 27 JUL at 13:00, SAT 28 JUL at 11:00
ACTS PER DAY: Friday 27.7.2018: Hurts (UK), Lily Allen (UK), Hardcore Superstar (SE), Jenni Vartiainen, Atomirotta, Neon 2, Roope Salminen & Koirat, Reino Nordin, Scandinavian Music Group, Radiopuhelimet, Vesta, Stam1na, Maj Karma, JVG, K-X-P, Gasellit, Beast In Black, Ruudolf, S-Tool, CMX, Mikael Gabriel, Dream State (UK), Shiraz Lane, Fear Of Domination, The Psycho Season, Vuoksi, Verikalpa, Cyril Awakens.
Saturday 28.7.2018: Cheek, Bad Religion (US), Dagny (NO), Cyhra (SE), Defecto (DK), Don Johnson Big Band, Disco Ensemble, Stig Dogg, Litku Klemetti, Raappana, Satellite Stories, Redrama, Olavi Uusivirta, Amorphis, Von Hertzen Brothers, Elastinen, Pyhimys, Ellinoora, The Comedians, Kaija Koo, The Rasmus, Michael Monroe, Timo Rautiainen ja Trio Niskalaukaus, Flat Earth, Ida Paul & Kalle Lindroth, Blind Channel, Saara Aalto, SOFA, Paperi T, Tuohimaa, LANAI, Get In, Art Effects, Mors Subita, SANA.
Qstock takes place in Kuusisaari and Raatti area in Oulu on 27 and 28 July, 2018. Qstock has been sold out for five summers in a row and the event is established as one of the biggest festivals in Finland. Last year the festival gathered 32,000 people over two days.
AGE LIMITS AND FREE WRISTBANDS:
There is no age limit for attending the Qstock festival. Under 10-year-olds (born on 29 July 2008 or later) can access the festival for free. Under 10-year-olds are guaranteed a free wristband in the company of an adult who has purchased a ticket. A maximum of two children under 10 are allowed to enter the festival area in the company of an adult who has a ticket. Free wristbands for under 10 can be claimed during the festival days at the wristband exchange tent. It is located near the main festival gates. Age must be verified.
Assistant wristbands for people with mobility impairments:
If your disability requires you to have an assistant present, he or she can collect a free wristband from wristband tent near the festival gates. open during the festival on 27–28 July 2018. Only one assistant per aided person is entitled to a free wristband. People assisting mobility impaired Qstock visitors can claim their wristbands during the festival days at the wristband exchange tent. It is located near the main festival gates. The assisted person must have a Qstock ticket or wristband.
4 Events for Qstock Festivaali 2018
4 Events